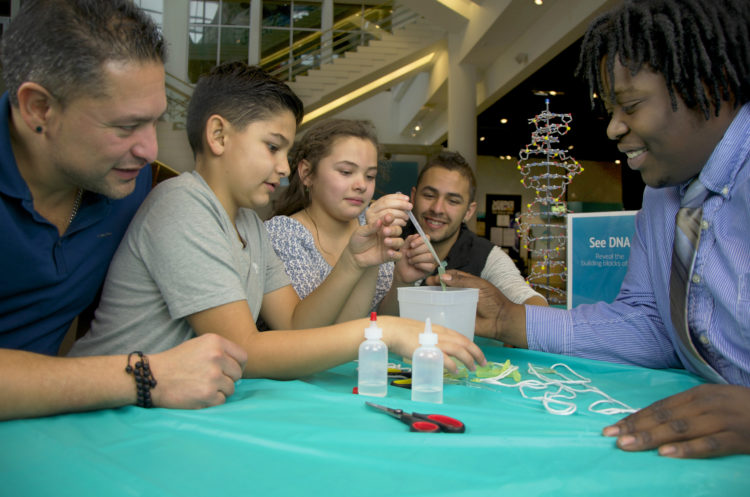 Photo courtesy of National Informal STEM Education Network
Congratulations to the Museum of Science, Boston team who just received supplemental funding from NSF to extend the reach of their Multi-Site Public Engagement with Science (MSPES). REA served as an external evaluator for the MSPES project, funded by an NSF AISL award (Advancing Informal STEM Learning). The project strives to bring scientists and the public together at Building with Biology events to have meaningful discussions about synthetic biology and the ways it impacts society. The project places special emphasis on the value of both scientific knowledge and the public's opinions and ideas, demonstrating that both parties can learn from each other. REA's role focused on evaluating the experiences of the scientists who volunteered for these events and the hosts at museums and other institutions who helped train the scientists in Public Engagement with Science (PES). We found that:
Scientists who facilitated hands-on activities and forums at Building with Biology events reported better understandings of synthetic biology and its social and ethical implications. Scientists also reported improved confidence in communicating with public audiences, an area where many had limited prior experience. Some clearly learned the characteristics and importance of PES through the project, including one facilitator who stated,
"This project made me realize that there's a lot more value in two-way conversations than straightforward lectures. In order to engage the public, it's necessary to involve them, rather than just try to impress them."
REA was one of several evaluation teams working together to conduct this research. You can read more about the full evaluation of this promising model at: http://www.nisenet.org/blog/post/building-biology-project-receives-supplemental-funding-nsf-develop-dialogue-program-about
With their supplemental funding award, the Museum of Science team will devise additional content for public forums focused on the theme of human genome editing. They hope that by bringing public audiences and scientists together in events that value the input of both, this potentially controversial topic will foster productive dialog that expands the understanding of all parties involved and paves the way for more public engagement with science in the future. The Building with Biology project is managed by The National Informal STEM Education Network (NISENet), a community of informal educators and scientists dedicated to supporting learning about STEM) across the US.