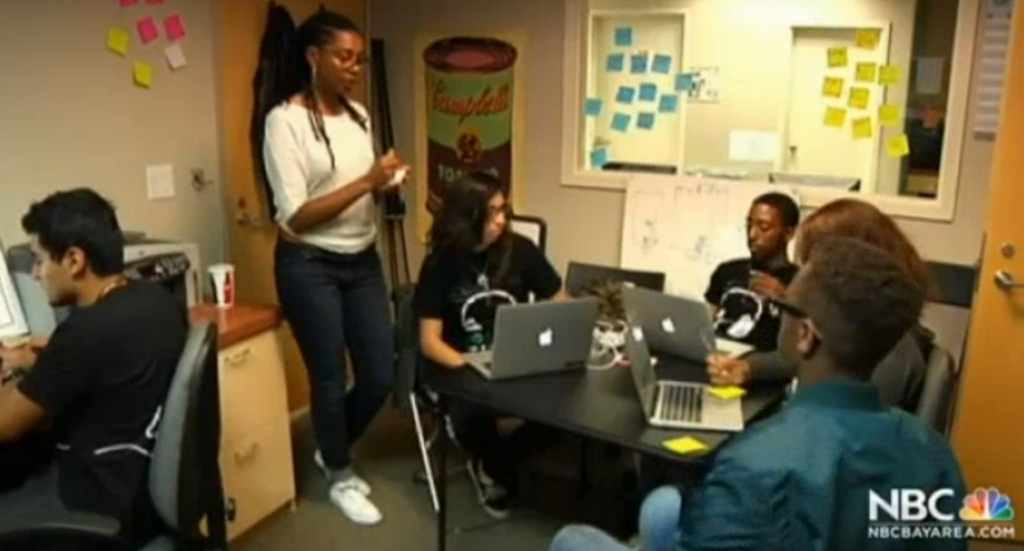 Young people growing up today must learn to navigate a digitally-mediated world of increasing complexity and contradiction. The ubiquity of digital technology and the rapid expansion in the use of data across all sectors of the economy has reshaped our everyday realities around communication, education, work, and community life. To navigate these new spaces, young people must develop critical understanding of the social conditions and tools afforded by data-structured environments.
The presence of digital media and technology in young people's lives is often taken for granted. Social media, online gaming, online music and video sharing, and smart phones play central roles in shaping youth identities. The rapid spread of technology has created openings for the public to access new tools of interactivity and creativity (Cope & Kalantzis, 2009; Ito et al, 2010).
However, despite the pervasive growth of digital media and technologies, young people do not have equal access to the devices or the social interactions and learning opportunities required to harness technology's possibilities. In other words, consuming media does not automatically lead to the ability to critically analyze or produce media for specific purposes. These are requisite skills for anyone aiming to participate in the technological revolution, let alone pursue an education or career in Science, Technology, Engineering, and Mathematics (STEM).
While careers in STEM fields are projected to grow almost 20% between 2008 and 2018, youth of color are markedly underrepresented in these career pathways (Langdon, et al, 2011). Although there are plentiful STEM opportunities in the Bay Area and nationally, young people from poor and minority communities face significant structural barriers, as well as social-emotional factors that inhibit prospects (Margolis et al., 2008).
Recognizing the gravity of these demands, Youth Radio (Oakland, CA) seeks to apprentice historically underrepresented youth into more full and equitable participation in civic and professional spheres. Youth Radio consciously works to develop young people's capacities as researchers, writers, and designers of data-rich investigative journalism and multi-media productions. Youth take on leading roles as creators of news media and technology, to critically analyze, respond to, and rethink their everyday worlds.
For over a decade, with the support of National Science Foundation (NSF) funding, Youth Radio has been working to develop and study its STEM-cognate initiatives, continually revising its programs in light of emerging technologies and reaching more broadly into the STEM education community. Previous efforts built staff members' capacity for app development and STEM journalism, and empowered a community of young people to create science stories with and about technology, (Bandy & Bass, 2009; Hazer & Bass, 2014). Through its Innovation Lab, funded largely by NSF's Advancing Informal STEM Learning (AISL) program, Youth Radio sought to expand its production model internally while developing and distributing its own online educational resources.
Rockman et al's external evaluation of the Innovation Lab studied the processes, products, and implications of Youth Radio's informal STEM pedagogy. Our recent report examines research and theory on youth media production that combines journalism, design, and coding. By considering the context of STEM teaching and learning at Youth Radio, and assessing the impact Youth Radio's STEM media on youth and adult audiences, we invite readers to ponder what it takes for media professionals to collaborate with young people on mobile-first storytelling, and what happens when they do.
What counts as journalism in the modern day? What does it take to produce high-quality stories and technology with youth across different media platforms? What is possible in terms of teaching and learning with multi-modal media? What pedagogical conditions are necessary to engage young people in dynamic learning through the creation of STEM-rich media? What learning takes place when youth have opportunities experience STEM learning as something they do, not as something done to them?
The Innovation Lab suggests a set of media production strategies, which cross cut science and engineering practices, that have the potential to promote dynamic STEM learning and to challenge dominant narratives about youth.
Access the full report at:
http://www.informalscience.org/sites/default/files/YouthRadio_InnovationLab_AISL%231323791_FinalEvaluationReport.pdf
References
Bandy, E. A., & Bass, K. M. (2009). Youth Radio science and technology program evaluation. [Final report]. San Francisco: Rockman et al.
Cope, B., & Kalantzis, M. (2009). Multiliteracies: New literacies, new learning. Pedagogies: An international journal, 4(3), 164-195.
Hazer, J. & Bass, K. (2014). Youth Radio's DO IT! initiative: Summative evaluation. San Francisco: Rockman et al.
Ito, M., Baumer, S., Bittanti, M., Cody, R., Stephenson, B. H., Horst, H. A. & Perkel, D. (2010). Hanging out, messing around, and geeking out: Kids living and learning with new media. MIT press.
Langdon, D., McKittrick, G. Beede, D., Kahn, B. & Doms, M. (2011) STEM: Good jobs now and for the Future. ESA Issue Brief #03-11. US Department of Commerce.
Margolis, J., Estrella, R., Goode, J., Jellison-Holme, J., & Nao, K. (2008). Stuck in the shallow end: Education, race, and computing. Cambridge, MA: MIT Press.