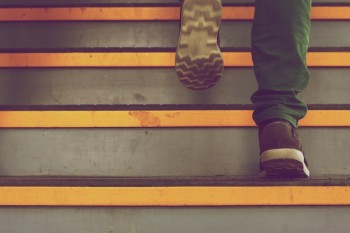 Our world is changing—and it's changing fast. Over the past three decades, massive societal transformations have rippled out from the complex realities of globalization. For better and for worse, K-12 schools, universities, and community-based organizations are experiencing the consequences of economic shifts, technological innovation, demographic changes, and increasing inequality. As a result of these changes, young people's worlds can be seen as growing closer on a global scale, while expanding and diversifying on the local level.
Educational leaders are asking how to best prepare students for the opportunities and risks that they will face beyond high school. It is increasingly common to hear that to be successful young people need to be "college and career ready," but it is not entirely clear just what this readiness consists of. A US Department of Labor study estimated that a staggering 65 percent of youth will work in careers and use technology tools that don't yet exist. Linda Darling-Hammond argues that preparing students for the world that lies ahead requires new approaches to learning. Clearly, academic content and skills remain crucial, but the ability to communicate persuasively, solve complex problems, and collaborate with others will weigh heavily in this new economy.
However, a long trail of research indicates that US classrooms predominantly rely on memorization and the recitation of facts (e.g. Bloom, 1954; Cazden, 2001; Hoetker & Ahlbrand, 1969; Nystrand & Gamoran, 1991). In a large study of 8th and 9th grade English classrooms, Nystrand (1997) observed that, on average, open-ended discussion took place just 52 seconds per class in eighth grade, and about 14 seconds per class in ninth grade. Teacher talk and recitation consumed the vast majority of class time. In a more recent study commissioned by the Gates Foundation, Kane & Staiger (2012) analyzed over 7,000 videos of 1,333 classroom teachers and concluded that approximately one in five classrooms expected students to engage in a modest amount of critical thinking.
One student at Youth Radio, where Rockman et al has been conducting evaluations for the past 8 years, spoke to this disheartening statistic when he said:
I feel like adults can sometimes be really surprised at the quality of content that comes out of Youth Radio because they're not expecting kids to be able to tell stories with this level of complexity. And that's purely because youth are underestimated. We've always been underestimated… We have less education, but that does not mean that we're not also people who have our own thought processes and ideas about the world.
Another student contrasted the opportunities for creative problem-solving presented at Youth Radio with her experiences in school:
It's really about us getting our voice out there because we're not usually given that option. All we are usually taught is…school. Regurgitate what you're being taught. It's not about, tell us what you think, what are your experiences, what did you have to go through to get to where you are. And here, you get that opportunity.
Youth Radio intentionally develops young people's capacities as researchers, writers and designers. Through work-based learning that combines investigative journalism, multimedia production, and data sciences, youth assume lead roles as knowledge/technology creators, not just consumers. The program intervenes directly into the problem that young people of color are routinely denied access to "the basic technological infrastructure that allows us to communicate, innovate, produce, consume, and even live, in today's world" (Castells, 1998).
Youth Radio and other programs we work with demonstrate time and time again that young people possess immense untapped power and intellect. When given the space and the tools to create, presented with high expectations curriculum, and taught real world skills by adults who deeply care about them, students who may seem disengaged in one context, are in fact passionate and dedicated intellectuals outside of school. Their stories and creations suggest that reformers hoping to transform schools for college, career, and civic readiness should look less for answers from outside experts and engage more youth as thought partners in that process.